Hampi Tour Package
The ruins at Hampi are testament and devotion to many of India's Kings' devotion and love for culture and Building. Situated in South India in the state of Karnataka, Hampi boasts of some spectacular ruins amidst great Scenic Landscape. The ruins have green vegetation and huge boulders which bring a unique beauty to the whole 26sqkm area. Most of the area is filled with Temples.
The temples of Hampi are treasures from the Vijayanagara period. A UNESCO heritage site, it attracts visitors from all over the World. Dotted around the hills and valleys are over 500 monuments.
Hampi is also proof to India's preeminence in city building and Architecture. It has water canals and public baths distributed across the City. It describes the City planners vision at that time which also
included ancient market streets, royal pavilions, bastions, royal platforms, treasury buildings, etc.
Important sites at Hampi: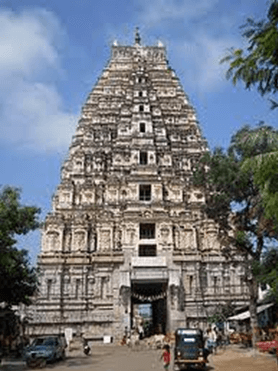 Hemakuta group of temples
Achyutaraya Temple/Tiruvengalanatha Temple
preksha temple and groups
Anegondi
Anjeyanadri Hill
Aqueducts and Canals
Archaeological Museum at Kamalapura
Badava Linga
Chandramauleshwar Temple
The Kings' balance
The Underground Temple
Tungabhadra River
Uddana Veerabhadra temple
Sri Lakshmi Narasimha
Virupaksha Temple
Vittala temple
Yeduru Basavanna
Yantrodharaka Anjaneya temple
Zenana enclosure
Virupapura
Sasivekalu Ganesha
Elephant stables
Lotus temple
Hazara Rama Temple
Lake(Near sanapur)
Ways to reach Hampi:
Nearest Airport in Hubli, 140kms from Hampi. The railway station at Hospet Jn is closer at 13kms away.
Excursions include Tungabadra Dam and many nearby agri based plains that can be reached by hiring a car, bike or simply using the State Bus transport.