Jaipur's Iconic Luxury Hotels:
Taj Rambagh Palace, Oberoi Rajvilas & Samode Palace.

Luxury Travel
Rise of the Super Rich and a steady increase in Affluent Middle Class has shifted the landscape of World Travel leading to a demand for Luxury stay and Luxury Outings. The West is well established to cater to this market with Asia and India too weighing on this opportunity. Luxury sits well with India as some Indians believe it was invented here. Though Indian market is nascent and not received the best in this segment, it sure wants to make a dent. India's many States have neither the Infrastructure to scale up nor have the local Governments until now made a serious attempt in promoting this segment. Despite the many shortcomings, few Luxury travelers have been drawn by the Incredible Sights, Sounds and Colors of India. Of all the states, Rajasthan offers the most amazing array of Monuments, Palaces, Culture, Cuisines and Events.
Jaipur, Rajasthan
In our Ode to Indian Luxury, we start with Jaipur, capital of Rajasthan and one of India's most fascinating Cities. Also known as Pink city, it has continued its royal Journey from the Heydays since it's foundation in 1727 by Maharaja Sawai Jai Singh II. Till this day, even the most mundane parts of the City exude Royalty. As one of India's fastest growing cities and contributors to India's Economic success, Jaipur offers an incredible array of Deserts, Monuments, Palaces, Culture, Cuisine and something unique among many Indian cities – Luxury Stay.
Few cities in India have managed to maintain their Royal lineage like Jaipur. This has paid off in terms of Tourism where it is regularly recommended as a must visit Tourist Destination by major Travel Magazines. It is one of the few Cities that offers Luxurious stay combined with Exotic Cultural De Tour. From the many great options that Jaipur has to offer, we have selected 3 Iconic Luxury Hotels that count on Heritage, Legacy, Comfort, Exoticism & Luxury.
Hotel Rambagh Palace, Taj Hotels
Taj Rambagh Palace gives you a glimpse of Indian Royalty like no other. It's excellent blend of Mughal and Rajput Architecture is an Ode to the days of the Raj. The regal off-white Structure with many Fabulous Theme Restaurants, Grand Suites, Plush Lounges, Exquisitely Marbled Corridors and Elegant lawns remind us of the Glory of Rajput rulers. The Hotel is steeped in Nostalgia and Legacy. Some of the rooms accommodated many famous personalities including Maharaja Sawai Man Singh II, Maharani Gayatri Devi (the most beautiful woman in the World), Prince Charles and Jacqueline Kennedy just to name a few.
Most notable experiences include Fine Dinning at the Suvarna Mahal – an Opulent exhibition of European Grandeur, Grand Royal suite of Rajmata Gayatri Devi, Polo ground for Polo Games and many others. If your visit to Jaipur is short then close proximity of the Taj Rambagh Palace to the city center should help you with that last minute shopping.
Hotel Oberoi Rajvilas, Jaipur
Oberoi Rajvilas is a truly Modern Fortress like Hotel that is set in the wild outskirts of Jaipur. A Bold Architectural Masterpiece that attempts to recreate the Glory of a Rajput Fortress with all Luxurious livable amenities. Rajvilas succeeds in a way that effortlessly blends Heritage, Legacy & Style of Rajasthan. With 71 rooms including some of the most luxurious Suites & Tents, Fine Dining, Stylized swimming pools and a renovated(280 years old) temple place, Rajvilas offers a warm & sophisticated stay.
Hotel Samode Palace, Samode
Samode Palace belongs to a trio of Haveli, Palace & Tented Bagh(Gardens) Hotels. Samode Haveli is in the Heart of Jaipur City. The Palace & Tented Bagh properties is at the remote Samode Village about 40kms from Jaipur. Though the Boutique Hotel(Haveli) is the main money earner in the group, its the Palace that walks away with all the charm. A truly rustic setting in an exotic locale, Samode Palace is for those who want to stay away from Jaipur's sometimes maddening life. Samode Bagh, a ten minute drive from Palace is a great retreat with its Royal Desert Tents and Mughal Gardens.
Samode Palace is in the midst of Aravalli Hills with different portions of the Hotel offering something unique & breathtaking. Be it the incredibly beautiful Sheesh Mahal that could be lit with a single match stick or the mosaic designed pool with the most amazing setting, Samode Palace offers a different World in Luxury stay.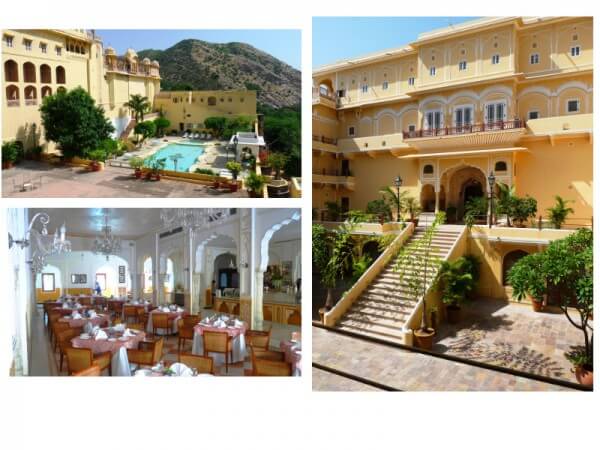 Should you Choose!
It's hard to pick a winner from the aforementioned Hotels. If one has to choose for their different standards, amenities & locales; they would go by the following:
Taj Rambagh Palace:
A Palatial stay.
Hotel that offers an Elegant mix of Raj & Rajput Royalty.
World History, Heritage and Nostalgia attached.
Proximity to Business & Shopping centers in Jaipur.
The Oberoi Rajvilas:
Postmodern Architectural Masterpiece.
A Bold Modern Fortress like creation in an Exotic setting.
The most Luxurious Accommodation in Suites and Tents.
Stunning aesthetics that blend with the location & theme.
Samode Palace:
A rustic setting in an Exotic locale.
Quintessential Rural Rajasthani setting with Desert tents, Fortified Palace & Mughal Gardens.
Unbeatable choice for a Group gathering looking for an exotic setting.
The only Hotel that comes with 150 year old Mughal Garden.