Shimla Tour Package
Shimla happens to be one of the most popular tourist destinations in India. Especially in Summer, where its pleasant all day, Shimla offers the Young and Old of something that most important hill stations do. Being the former Summer Capital of the British, it has colonial building that fit the grandeur of a bygone era and places of considerable interest to contemporary and old India.
It is enroute to most of the places in Himachal Pradesh and so do visitors throng this place for at least a day in their tour itinerary.
Places of Tourist Interest
The Mall : It is the main shopping area of Shimla. It is one of the must visit attractions of the city. It boasts many clubs, restaurants, banks, bars, government buildings, tourist offices and post offices. The Scandal Points and the Ridge are the two main meeting points at the Mall.
Gaiety Theatre : It is located at the Mall. It is the reconstruction of the Old British Theatre. It is a centre of cultural activities.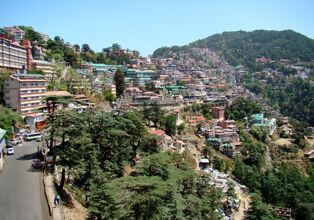 The Ridge : The Ridge is road is a large open square, located in the heart of Shimla. It runs east to west alongside the famous Mall Road. The road leads to the Scandal Point in the west and to the famous Lakkar Bazaar in the east. It is famous noted as the venue of Shimla Summer Festival.
Christ Church : It is one of the major landmarks in Shimla. It is located at the Ridge Road. It is the second oldest church in North India. It is the place in Shimla where all tourists should spend some time in.
Jakhoo Hill : It is located at 2 km away from Shimla. It is the highest peak in Shimla and offers spectacular views of Shimla and of the snow-clad towering mountain peaks of mighty Himalayas.
Jakhoo Temple : At the top of the Jakhoo Hill, there is a temple dedicated to Lord Hanuman. Here visitors can see a number of monkeys. The path to the temple is zigzag and very scenic.
Summer Hill : It is situated at the distance of 5 km from the famous Ridge Road. Himachal Pradesh University is located here. Shady walkways offer charming and captivating views of the region.
Prospect Hill : It is a charming hill in Shimla. It is noted for the temple of Kamna Devi.
Tara Devi Temple : It is located at Tara Parvat (Tara Hill). It is about 15 km away from the main town of Shimla. The temple overlooks beautiful views of the city. Surrounding is scenic and serene. It is surrounded by wooded pine forests.
Other Attractions : There are many other attractions in Shimla. They are Sankat Mochan Temple, Shimla State Museum, Indian Institute of Advanced Study, St Michael's Cathedral, Chadwick Falls, Botanical Gardens, Kali Bari Temple, etc.