Manali Tour Package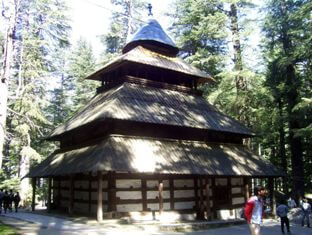 Manali:
Manali is a picturesque hill town located in the Indian state of Himachal Pradesh. It is a favorite destination of trekkers, honeymooners, nature lovers and vacationers. It is situated in the district of Kullu. Every year it draws a large gathering of tourists from all over the world. Snow capped mountains peaks, apple orchards, green meadows, lively valleys, thick-wooded forests, picturesque landscapes, chatty mountain streams, lovely lakes, serene ambiance, cool & cheerful climate, scenic surroundings, etc all team up together and make Manali a hot spot among tourists, travellers, trekkers, vacationers, honeymooners and nature lovers. Besides copious beauty of nature, the city is also known for its religious significance. There are many temples in and around which can be visited on Manali tours and travels.
Places to Visit in Manali :
Hadimba Devi Temple : It is a beautiful temple attraction in Manali. It is dedicated to Hadimba (the wife of Mahabharata Legend – Bhim). The temple is known for its exquisite architecture. Gracefully carved doorway and superbly crafted four tiered pagoda roof are attractions of the temple. The temple is one of the must visit attractions of travel and tours in Manali, India.
Manu Temple : This is dedicated to Sage Manu Rishi. It is one of the must visit tourist attractions in Manali, Himachal Pradesh. According to legend, the picturesque town of Manali was formed by Manu Rishi. The temple is sited in the old Manali and can be accessed only by crossing slippery stone paths.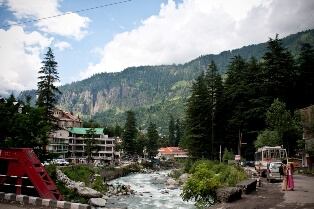 Vashisht Springs & Temples : Manali tour is incomplete without visiting Vashisht Village. Vashisht Village is noted for hot water springs and temples. The springs are known for religious and medicinal properties. Many people come there to take a dip in the hot water springs. The Vashisht Rishi Temple and the Lord Rama Temple are attractions of the Vashisht village. Both stand facing each other.
Tibetan Monasteries : Manali is also known for some of famous Buddhist monasteries. Thekchoking Gompa and Nyingamapa Gompa are famous monasteries in Manali, Himachal Pradesh.
The Mall : Like other popular hill stations in India, Manali also has a market area known as "The Mall".
The Club House : It is a popular picnic spot in Manali, India. It is situated about 1.5 km away from Manali Bus Stand. It is a beautiful modern building offering facilities like sprawling green lawns, multi-cuisine restaurant and a well-stocked bar.
Nehru Kund : It is crystal clear cold water spring located on the Manali-Keylong Road. The spring is originated from Bhrigu Lake
Arjuna Gufa : According to legends of Mahabharata, Arjuna had meditated here to earn the Pashupati Ashtra from Lord Indra.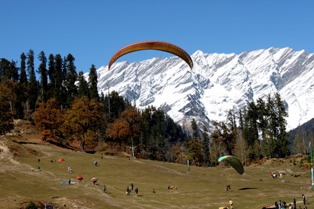 Solang Valley : It is located at very short distance from Arjuna Gufa. It is offers panoramic views of snow clad mountains. It is noted for good slopes for skiing.
Rhotang Pass : It is one of the must visit attractions in Manali. It provides spectacular views of the mountains and the glaciers.
Manikaran : It is known for hot water spring. According to legend, Goddess Parvati (the consort of Lord Shiva) came to have a bath. During her bath she lost her ear-ring and so the water became hot. The water is hot enough to boil the Dal, Rice and Vegetables. Thousands of people visit the place on their Manali tours to take a holy dip.
Adventure & Sports : Manali is also popular among adventure enthusiasts. Travelers can enjoy here trekking, trout fishing, angling, white water rafting, mountaineering, rock climbing, skiing, heli-skiing, paragliding, ice-skating, etc.